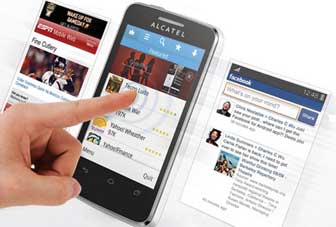 Alcatel One Touch Tribe 3040D is a compact phone that is packed with so much features and major functionality made by Alcatel. Ideal for people who want the functions of two phones in one sleek package, the Alcatel 3040D is a dual-sim touch phone that has a special Swype feature.
Simply swipe the screen to the left to easily browse the web via the mini browser, or update your status on Facebook; then swipe to the right to display your contacts. A lot can be done with the 3040D, and all it takes is one fluid motion.
You can also customize your phone by downloading ringtones, wallpapers, and awesome apps from the app store, plus stay updated with your friends through the built-in Facebook and Twitter apps. But aside from browsing the Internet efficiently, you can also watch videos with the phone's large 3.5-inch HVGA display wherever you go.
But given everything you can with such a small phone, the best thing about the Alcatel One Touch Tribe 3040D is that it's affordable. With only over a hundred dollars in retail, you don't have to cut back on budget too much to get a nice smart phone. Plus, it makes for a great gift for loved ones. Check out more of the following details about the Alcatel One Touch Tribe 3040D before you make your purchase.
Features:
Dual sim
2MP Camera with digital zoom
128 MB RAM
8 hours talk-time
Colors:
Anthracite
Apple Green
Cherry Red
Fresh Rose
Officer
Pure White
Price: