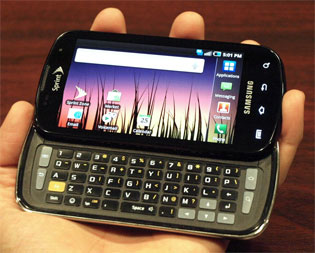 Samsung Epic 4G Specs
We live in a world where almost all mobile phone companies automatically assume that everyone loves touch screen keyboards. This is perhaps why almost all Android phones nowadays have touch screens but don't feature a secondary keyboard input. Fortunately, Samsung hasn't forgotten the rest of the mobile market who wants an easier and more practical way of typing on their phones.
Case in point, the Samsung Epic 4G Android phone, which is packed with features, compact, and has a QWERTY keypad.
At first look at the Samsung Epic 4G specs and you already know it's a great option for a phone. It has a 4-inch screen, a 5MP camera, 512 of RAM and an expandable memory of up to 32 GB, a reliable Android browser, plus built-in Facebook and Twitter social apps.
But the real catch in this phone are its multi-touch screen, the Swype on-screen keypad and the slider keypad. All these options on how to type make this phone an excellent choice for a lot of people. It's durable and compact and very practical for people who want all the features of an Android phone, but still be able to type normally in a real keypad.
The Samsung Epic 4G conveniently brings together all the most important features in a mobile phone. And the result is indeed epic.
The Samsung Epic 4G specs are undeniably impressive. Plus it has an affordable price tag to boot at only $119. So to those who are looking for a reasonably-priced Android phone who want an alternative to a touch screen keypad, check out the Samsung Epic 4G.