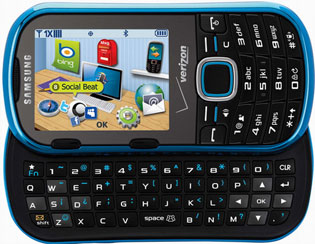 Is the Samsung Intensity 2 (U460) for you?
With the dawn of touch screen mobile phones, it seems nothing out of ordinary when a new model comes out. But while the Samsung S4 is one of the most popular and in demand phones today, Samsung is far from introducing other types of mobile phones. With the Samsung Intensity 2 (U460), the mobile company continues to provide its customers variety.
The Samsung Intensity 2 is a QWERTY mobile phone that covers all the basics you need in a phone. With the slide QWERTY keyboard that's easily accessible, the Samsung Intensity is a great option for those who still prefer keys they can actually punch instead of a touch screen for a keypad.
It's also built in with social networking sites such as Facebook, Twitter and Myspace. With the Intensity's Social Beat app, you could easily check your accounts and post updates in one fluid motion.
The Samsung Intensity 2 also has an infrared camera that conveniently captures quality photos, and a music player that lets you listen to your favorite music when you're on the go.
With 100 MB of internal memory and expandable memory slot of up to 32 GB, the Samsung Intensity 2 is a cute and compact phone that you could use as backup to your high-powered Android phone, or just a secondary phone to use for emergencies.
With its features, you won't feel like you're missing out a lot since all the most common apps and features are still there. Overall, the Samsung Intensity 2 (U460) is affordable at only $49.99 and very functional.