Dell Incorporated is a multinational computer company which came from Round Rock, Texas USA. They sell, repair, develop, and support computers and other tech products and services. Its name came from its founder itself, Michael Dell, and is now one of the biggest tech companies in the entire world with more than 100,000 employees.

More specifically, Dell sells servers, PCs, network switches, data storage devices, software, HDTVs, printers, cameras, computer peripherals, and electronic components used by other companies. To keep up with the staggering demand for mobile computing, Dell introduced its new phone in 2009, the Dell 3iX. But what stood up on their mobile phone lineup is the Dell Streak and Dell Venue products.

The Dell Venue is running at Android and is manufactured solely by Dell. It included the products Venue, Venue 7, Venue 7 8GB, Venue 8, Venue 8 7000, and the Venue 10 7000. It was announced in December 2012 that Dell would stop their smartphone propriety and so discontinuing the Dell Venue lineup. But on October 2013, they reverted from the plan and still continued on with the lineup.
Related Other American Wireless Handheld Device HP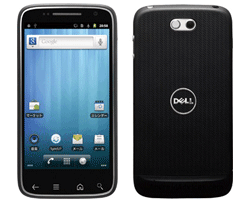 Image source: gsmarena.com
But this time, Dell will transform the Venue lineup and turn it to tablets running Android. The Venue 7 and Venue 8 are actually Android tablets which are both running in the latest Intel Cover Trail+ Atom processor.
On the other hand, the Dell Streak is a smartphone and tablet brand from Dell also running in the Android operating system. It includes the models Streak 7, Streak 7 WiFi, Streak 10 Pro, and the Streak Pro D43.Although negative reviews were received with this release. One critic said that it has a poor display and is full of bugs and glitches. They also complain that the Streak is bulky and it should run a more compatible operating system rather than the Android Froyo which was really meant for a smartphone.
Dell's Phone Models List
Dell Venue 10 7000

Image Source: blog.gsmarena.com
Dell truly knows what its market needs when it comes to tablets. Released in 2015, the Dell Venue 10 7000 integrates a sleek design that is still appealing today. The OLED display of this tablet offers a nice and clear resolution, just perfect for presentation purposes.
The optional keyboard allows a boost in productivity, great for multi-tasking and the like. Security is amazing as well, with this device integrating facial recognition to keep files safe from harm. Running on Android 10, the OS allows great compatibility with a wide range of apps. A complete package that blends well for both work and play, this is a tablet worth owning!
Dell Venue 8 7000

Image Source: techradar.com
A tablet that takes wonderful pictures? It's real – the Dell Venue 8 7000 is the perfect device for shutterbugs out there! Considered as one of the brand's thinnest tablets, this device balances productivity and fun in one amazing package.
The Venue 8 7000 makes use of the innovative Intel RealSense Snapshot tech, which helps in both capturing and storing crystal-clear images. Additionally, the tablet is designed to be both beautiful and strong, a nice thought to consider for individuals who plan to take shots out in the wild. This is one wonderful device that you can be sure to use when capturing precious moments!
Dell XPS 10

Image Source: gsmarena.com
This 10-inch screen tablet offers a good balance between style and productivity. Running on a Qualcomm Snapdragon S4 chipset (dual-core), the XPS 10 has just the right amount of power to perform efficiently, whether for work or play. The Dell XPS 10 also comes with an optional keyboard dock, for those who'd want a faster and more efficient typing experience.
Battery life is amazing as well, with this option not dying when you need it the most! This tablet is also comfortable to the touch, excellent for those who want something both stylish and practical. Best of all, running all sorts of apps and programs in this device is real easy, a nice thought for beginners to use.
Dell Streak 10 Pro

Image Source: gsmarena.com
It may be old, but the Dell Streak 10 Pro was an amazing tablet that made waves in China! A 10-inch screen tablet that runs on Android 3.1, this was a tablet that showed Dell's true potential as a powerhouse device provider globally. Storage capacity was excellent, with the device able to store up to 16 GB.
To set both work and play expectations in a better and clearer way, users can set profiles where certain apps and files can only be accessed. This means that your personal files are safe from harm when accessing work-related environments! Also, the Dell Streak 10 Pro has an impressive battery life that assured users of reliability and efficiency!
Dell Streak Pro D43

Image Source: gsmarena.com
Released way back in 2012, the Dell Streak Pro D43 was a feature phone that offered efficiency and excitement for those lucky to have owned it! The 1 GB RAM and 8 GB ROM configuration was a hit for its time, given that this phone can work and run essential apps without a hitch. Camera was standard, with an 8MP lens able to capture images efficiently.
The removable battery (Li-Ion 1520) allows for quality power distribution, a nice touch for users on the go. A basic yet still stylish phone that showed the world what Dell was capable of in the mobile device industry!
Dell Streak 7 Wi-Fi

Image Source: gsmarena.com
A landmark tablet, the Dell Streak 7 Wi-Fi was an impressive mobile device released last 2011. The screen was set at 7″, which was more than enough to browse and play different sorts of applications without squinting one's eyes. Camera was fairly okay as well, with a 5MP lens capturing all sorts of images and videos.
The battery was pretty sufficient for devices released during that time, with the Li-Ion 2780 mAh battery offering just the right amount of power juice to last for a long time. Running on Android 2.2 (Froyo), the Dell Streak 7 Wi-Fi was a pretty high-level device for its time!
Dell XCD35

Image Source: gsmarena.com
As one of Dell's earliest phone models, the XCD35 still offered excellent mobile efficiency coupled with some nice app features. Released in 2010, this phone can be considered as a gateway model for consumers to learn what Dell has to offer for the industry.
Memory may seem to be really limited when compared to contemporary standards, but the 256 MB RAM and 512 MB setup was a hit during its release. Additionally, the 3MP camera lens actually captured clear videos as well. The Dell XCD35 ran on Android 2.1, which allowed users that time a nice experience on what Android devices had to offer. A nice phone for its time!
Dell Aero

Image Source: gsmarena.com
The Dell Aero, released in 2010, was a popular smartphone known for its really light weight! Running on Android 1.5 (Cupcake OS), this device was a great entry point as well for first-time mobile device users. Features may be limited, but for its time, the camera and battery tech were a bit advanced.
The 5MP lens offers good video and photo captures, a nice feature shutterbugs of the yesteryears would have enjoyed. The 1000 mAh battery did offer enough power distribution for the phone. Given the basic functions, the Dell Aero was a favorite among tech-savvy users during that time!
Dell Flash

Image Source: gsmarena.com
Now here's a really old but good Dell smartphone model! The Dell Flash, released in 2009, proved to the world that smartphones would soon reign supreme! Even at its most basic features, this device showed much promise to something almost everyone now owns.
The 5MP camera lens, when paired with the 3.5″ screen, allows the capture and viewing of some clear pictures and videos. The Li-Ion 1300 mAh battery also offered a nice power output, which assured users of constant and efficient device usage. The OS, Android 2.2, was a nice introduction of what Android phones have to offer. A really nice and innovative phone for its time!
Dell Venue 7

Image Source: gsmarena.com
A basic smartphone that offered some minimalist styling as well, the Dell Venue 7 was a device that'll fit any sort of lifestyle. The 2 GB RAM and 16 GB expandable storage offers just the right amount of memory to handle and run basic apps without any hitch at all.
Additionally, the 3 MP camera has just the right amount of tech to capture and record clear pictures and videos. The battery is quite amazing, with the 4100 mAh Li-Ion setup providing enough juice to keep the phone running. Tough and stylish as well, this is a great phone that you can rely on for all sorts of needs!
Here is the complete list of all Dell phone models:
| | |
| --- | --- |
| Dell Venue 10 7000 | Dell Venue |
| Dell Venue 8 7000 | Dell XCD35 |
| Dell Venue 8 | Dell XCD28 |
| Dell Venue 7 8 GB | Dell Smoke |
| Dell Venue 7 | Dell Flash |
| Dell XPS 10 | Dell Venue Pro |
| Dell Streak Pro D43 | Dell Streak |
| Dell Streak 10 Pro | Dell Aero |
| Dell Streak 7 | Dell Mini 3i |
| Dell Streak 7 Wi-Fi | Dell Mini 3iX |
Photos of Dell's different types of phones
Image source: gsmarena.com