Dell Incorporated is a multinational computer company which came from Round Rock, Texas USA. They sell, repair, develop, and support computers and other tech products and services. Its name came from its founder itself, Michael Dell, and is now one of the biggest tech companies in the entire world with more than 100,000 employees.

More specifically, Dell sells servers, PCs, network switches, data storage devices, software, HDTVs, printers, cameras, computer peripherals, and electronic components used by other companies. To keep up with the staggering demand for mobile computing, Dell introduced its new phone in 2009, the Dell 3iX. But what stood up on their mobile phone lineup is the Dell Streak and Dell Venue products.

The Dell Venue is running at Android and is manufactured solely by Dell. It included the products Venue, Venue 7, Venue 7 8GB, Venue 8, Venue 8 7000, and the Venue 10 7000. It was announced in December 2012 that Dell would stop their smartphone propriety and so discontinuing the Dell Venue lineup. But on October 2013, they reverted from the plan and still continued on with the lineup.
Related Other American Wireless Handheld Device HP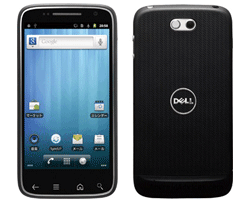 Image source: gsmarena.com
But this time, Dell will transform the Venue lineup and turn it to tablets running Android. The Venue 7 and Venue 8 are actually Android tablets which are both running in the latest Intel Cover Trail+ Atom processor.
On the other hand, the Dell Streak is a smartphone and tablet brand from Dell also running in the Android operating system. It includes the models Streak 7, Streak 7 WiFi, Streak 10 Pro, and the Streak Pro D43.Although negative reviews were received with this release. One critic said that it has a poor display and is full of bugs and glitches. They also complain that the Streak is bulky and it should run a more compatible operating system rather than the Android Froyo which was really meant for a smartphone.
Here is the complete list of all Dell phone models:
| | |
| --- | --- |
| Dell Venue 10 7000 | Dell Venue |
| Dell Venue 8 7000 | Dell XCD35 |
| Dell Venue 8 | Dell XCD28 |
| Dell Venue 7 8 GB | Dell Smoke |
| Dell Venue 7 | Dell Flash |
| Dell XPS 10 | Dell Venue Pro |
| Dell Streak Pro D43 | Dell Streak |
| Dell Streak 10 Pro | Dell Aero |
| Dell Streak 7 | Dell Mini 3i |
| Dell Streak 7 Wi-Fi | Dell Mini 3iX |
Photos of Dell's different types of phones
Image source: gsmarena.com