It's been nearly a decade since the launch of the Siemens AL21, and new innovations in mobile technology have spawned. But while the majority of the public prefers to buy smart phones these days, there might still be a place for the once-popular slider phone.
The Siemens AL21 may not be a good choice at first consideration because, well, let's admit, it really does pale in comparison to all these high-end Android phones in the market today. But the old-fashioned slider phone still has its charms, even after a decade since its launch.
Case in point, it's a reliable hand-phone for when you really just need to call and text people. For those purposes, the AL21 is an excellent model manufactured by giant mobile phone company Siemens.
The lack of other features such as camera and e-mail client may also be an advantage for people who don't want any fuss over their phones. The Siemens AL21 could be a great backup phone because you can count that its standby time will last longer than that of your iPhone or Android phone. Even if you use it regularly for calling and texting, its battery will still get you through the day. So if ever you find yourself in an emergency situation, your smart phone is dying and desperately need to contact someone, just flip our your slider phone and make the call.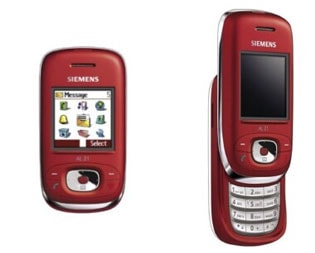 Features:
Slider phone
130 x 130 display resolution
0.0015 GB built-in storage
5 hours battery talk time
220 hours battery stand-by time
600 mAh battery capacity
GPRS data connectivity
Colors: