Announced in 2010, the Sony Ericsson Xperia X8 is one of those smart phones that doesn't go out of style easily from Sony Ericsson phone manufacturer. Even after almost four years since it was launched, the phone still remains as a great choice for people who value simplicity and functionality.
Sony Ericsson Xperia X8 is a great choice for those who are on a budget, but would like to have a decent smart phone. One of the main features of the Xperia X8 is the sound quality when you listen to music. It's an ideal phone to bring when you want to go out and listen to music on the go. However, one of its downsides for many people is the quality of the camera, which is actually understandable.
When the phone was released, 3.2 megapixels was a good enough offer. But four years later, the standard camera quality ranges from 8-12 megapixels already. While you can still take decent pictures with the Xperia's 3.2 MP camera, there are certainly smart phones with better quality cameras.
But the thing is, people don't usually get the Sony Ericsson Xperia X8 because of its camera. They get it for the overall functionality it offers with an affordable price. The phone's sound quality is superb whether you're listening to music or talking to someone. Most importantly, it has a very user-friendly interface which makes excellent for everyday use.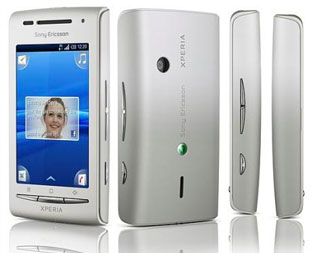 Features:
Android 2.1 OS
Single core processor
0.128GB built-in storage
3.2 MP camera
Expandable memory up to 16GB microSD
1200 mAh battery capacity
HSDPA 7.2 Mbit/s data connectivity
USB charging
4.75 hours battery talk time
446 hours battery stand-by time
Colors: