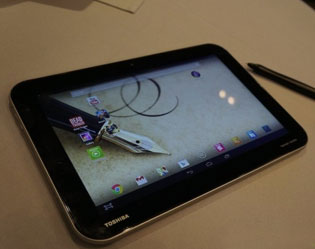 Planning on buying a new gadget but you still want to use your current smart phone? If upgrading is giving you second thoughts about what to get, you might want to considering getting a tablet instead of another smart phone. Tablets are essentially smart phones sans sim card slot.
With tablets, you can still make phone calls and send messages via hundreds of different apps, plus you get better performance and bigger built-in storage. For instance, the Toshiba Excite Pro from a well-known phone manufacturer Toshiba Company, is an excellent tablet of choice given its features.
The huge 10-inch display allows for a lot of possibilities. You can enjoy watching HD videos, play games with stunning visuals, and make video calls with crisp image quality. It's amazing that something you can hold comfortably at the palm of your hands could offer such high quality images and video.
But aside from the tablet's impressive display, the overall performance of the Toshiba Excite Pro is really quite, well, exciting. With a tablet that can allow you to do so much with apps, and a fast internet speed, you don't have to sacrifice your efficiency and creativity.
Features:
10.1-inch display
299 ppi pixel density
2560 x 1600 resolution
Stereo speakers
32 GB built-in storage
2 GB RAM
Expandable memory up to 32 GB microSD
8MP primary camera with touch focus and image stabilization
1.2 MP front camera
Quadcore Cortex A15 processor
Android v 4.2.1 OS
Colors: