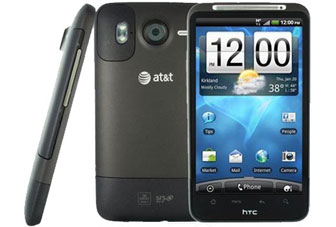 Smart phones have a lot of areas to compete in: resolution, memory size, camera quality, and a lot more. In all of these areas, the HTC Inspire 4G proves to be truly inspirational. With a large 4.3 display, it offers a much grander viewing experience and allows you to enjoy your apps even more.
Overall, the HTC phone model is considerably larger than many of its alternatives, but that's not the only thing to celebrate about the HTC Inspire 4G.
Because of its larger display and RAM, you can store many of your favorite music and movies and not worry about low quality performance. The HTC Inspire 4G also has awesome 4G connectivity so you don't have to endure the waiting time when you need to browse the Internet or use applications that rely on Internet connectivity.
Built for high performance, the HTC Inspire 4G definitely is a good choice when you need something that moves as fast and efficiently as you do. Of course, there is the rather steep price tag to consider. Those who want only a pretty phone have a lot more affordable alternatives to choose from in the market. But for the one who want a larger than life phone, the HTC Inspire 4G is one of the best choices that are still in the market today.
Features:
Android 2.3 OS
4.3 inch display
480 x 800 resolution
217 ppi pixel density
8 MP main camera
720p camcorder quality
4GB internal storage
768 MB RAM
Noise cancellation feature in microphone
Colors:
Price: